CLEANING TIP SEARCH
Find your cleaning solution below
Search the Queen's cleaning tip solution library by typing in a keyword phrase below:
WHAT ARE SOME OF THE BIGGEST CLEANING MISTAKES PEOPLE MAKE
WHAT ARE SOME OF THE BIGGEST CLEANING MISTAKES PEOPLE MAKE – Aired "Live": Monday, June 4, 2018 – 8:50am (3TV/Phoenix – Good Morning Arizona).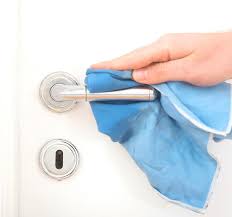 NOT USING DISINFECTING SPRAY CORRECTLY
They spray it on and then wipe. To disinfect, a cleaner must stay wet on a surface for 5 – 10 minutes. Then you need to rinse the surface and dry. Disinfectants don't make good seasoning for food so be sure to rinse counter surfaces. You don't want chemicals in your food.
SCRUBBING and RUBBING TO GET CARPET STAINS OUT
First of all it drives the stain down into the carpet so it is more difficult to remove. Rubbing damages the carpet fibers and leaves them "fuzzy" looking. Instead of rubbing remember to blot, blot, blot. I always reach for the club soda and pour it on. The carbonation bubbles up the stain and the salts keep it from staining. Blot really well to remove all the moisture you can.
REMEMBER TO LOOK UP
Most people forget about fans, lights, chandeliers, vents. A good extending duster will help you easily keep them clean.
FORGOTTEN SPONGES and DISHCOTHS
Many people think that wringing them out in soapy water cleans them. Not so. To remove food soil and bacteria, wash them once a week in the washing machine and during the week either put them on the top rack of the dishwasher or wet them so that they are dripping, and put on a plate in the microwave for 2 -3 minutes. They will be hot when they come out so don't wring immediately. Do this several times or more a week
MOST PEOPLE DON'T WASH THE SURFACES THAT HAVE MORE GERMS THAN A TOILET SEAT
Light Switches, door handles, remote controls, home or office phones, the toilet handle. Use a disinfectant or disinfectant wipe on these or combine 10 drops of Tea Tree Oil and 1 cup of water and wash with that. Be sure to spray the cloth rather than the wall etc. Otherwise you will get drip marks on wall surfaces.
NOT WEARING RUBBER GLOVES
Your skin is the largest body organ and absorbs whatever you get on it. Even natural products, while not containing chemicals, can remove the natural oils on your skin and dry it.
USING A SPONGE MOP ON TILE FLOORS
A sponge mop acts as a squeegee, pulling dirty water into the grout lines soiling it. Use a micro fiber mop to clean well and eliminate dirty grout.
USING TOO MUCH CLEANER
More is not better. It can build up on surfaces, takes longer to clean and rinse off, and can smear.
USING TOO MUCH WATER ON FLOORS
Using too much water, or too wet a mop, on floors can leave watermarks and streaks. Wring out mop well or switch to micro fiber to eliminate the issue.