CLEANING TIP SEARCH
Find your cleaning solution below
Search the Queen's cleaning tip solution library by typing in a keyword phrase below:
TRAVEL HACKS TO KEEP YOU CLEAN and ORGANIZED – VIDEO
TRAVEL HACKS TO KEEP YOU CLEAN and ORGANIZED – As seen on 3TV/Phoenix (Good Morning Arizona) – Monday, May 21, 2018 (8:40am) – SEE VIDEO BELOW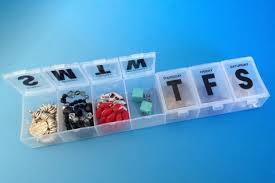 TOOTHBRUSH HOLDER
Do you get squeamish just thinking about laying down your family's toothbrushes on a hotel bathroom countertop? Believe me, you should. When you travel, take along a clip style clothes pin. They come in multiple colors so each family member can have their own. Clip your toothbrush with the clothespin and use the top part of it to create a tripod, using your toothbrush as the third leg. It's easy to carry this, and it weighs nothing. It will keep your toothbrush sanitary and allow it to dry between brushings.
DOWNSIZE YOUR TRAVEL BEAUTY PRODUCTS
Leave those big bottles of moisturizer, eye cream, etc. home. Use a contact lens case or individual pill container to easily take the products with you. Make sure you label.
Q-TIP CONTAINER
Use an old pill bottle to carry Q-Tips. You can see through the bottle so you always know what is in it and it is light weight and easy to use.
USE A BINDER CLIP AS A RAZOR COVER
Have you ever accidentally nicked yourself on an uncovered razor? Just fasten a binder clip over the end of the razor and no nicks.
PACKED ROLLED BELTS IN SHIRT AND BLOUSE COLLARS
This is a great way to keep the neck shape of your blouses and shirts. Simply roll the belt so that it fits in the buttoned neck of the shirt/blouse.
PACK YOUR SHOES THIS WAY
Here's a great way to pack shoes in your suit case without getting dirt on other clothes. Save those cheap hotel shower caps. Slipping your shoes inside the disposable cap will help keep the rest of your belongings clean.
USE PLASTIC WRAP TO SPILL – PROOF YOUR BOTTLES
If your shampoo or moisturizer has ever leaked inside your bag, you can appreciate this tip from remove the bottle cap on shampoos, moisturizers, etc. and slide a square of plastic wrap over the bottle, screw on the cap, and you're good to go.
USE A PILL CASE TO ORGANIZE JEWELRY
Keep your earrings, necklaces and rings together in an inexpensive drugstore pill-a-day organizer when you travel.
USE DRYER SHEETS TO KEEP SHOES SMELLING FRESH
Putting dryer sheets inside shoes will keep odors away, and if you end up with static cling in something you put on, grab a dryer sheet and rub over the wrong side of the fabric to banish it.
BRING AN EMPTY WATER BOTTLE THROUGH AIRPORT SECURITY
Avoid buying overpriced bottled water at the airport. Bring an empty water bottle through security and refill it at a water fountain on the other side of the checkpoint.
TAKE A SCREEN SHOT OR PHOTO OF DOCUMENTS SUCH AS YOUR PASSED WORK, ETC.
You'll thank yourself if you're ever a victim of theft or loss. It's also worth taking a screenshot of any journey confirmations. If you've booked any flights, buses or trains, whether you're on your phone, laptop or tablet, make sure you screenshot them while you have Wi-Fi or internet access so you can access them when you're no longer connected. So much easier than lugging around printouts.
VIDEO: Original broadcast on 3TV/Phoenix (5/21/18):