ESSENTIAL OIL Cleaner – As seen on Good Morning Arizona (3TV) – Monday, July 6, 2020 – 8:45am
This is a safe natural all-purpose cleaner
How to:
3/4 – Cup Water

1/4 – Cup Rubbing Alcohol

8 – 12 Drops Peppermint, Spearmint, Lemon or Orange Essential Oil

1 Good Squirt Liquid Dish Soap

Pour all the ingredients into a labeled 16 oz or larger spray bottle

Shake well before each use.

This is a safe spray and wipe cleaner for granite, marble, Quartz, or other counter surfaces. Use it on appliances, tables, in the bathroom, and on baseboards and window sills.
Watch the Broadcast Video (click on video to play)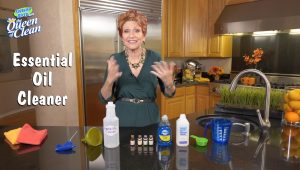 Share with your friends!