No stranger to the cleaning business, Linda Cobb is the former owner of one of the largest cleaning companies in Michigan. Not only is she an authority on carpet cleaning, upholstery cleaning and wall and window washing, but she also has faced all types of cleaning challenges. In fact, her firm specialized in some of the most difficult cleaning tasks in the industry: disaster restoration, fire damage and smoke and water damage.

As The Queen Of Clean®, Linda has been a featured guest on more than 70 local and national talk radio shows across the country including the #1 rated Beth & Bill in the Morning on 99.9 KEZ in Phoenix, AZ. She has been widely recognized as the go-to cleaning expert for such television shows such as Oprah Winfrey's popular TV talk show Oprah, Dr. Phil, The View, The Today Show, and Live with Regis & Kelly. In addition, she's a regular on KTVK-TV's top-rated morning show Good Morning Arizona in Phoenix, every Monday morning between 8am-9am and on the weekends on Good Morning AZ (Saturday or Sunday), and has done her own series for the DIY Nework, Talking Dirty With the Queen of Clean®.
Linda is also a top-notch speaker, wowing audiences across the country with her knowledge and unusual cleaning methods, such as Tang™ in the toilet and Massengil™ on the dog! Her natural cleaning methods are easy and even fun, something that never fails to astound her audiences.
Whether on television or radio or as a guest speaker, Linda's abundance of personality shines through as she shares her cleaning expertise and sense of humor while answering viewer and listener questions. There's a standing challenge with audiences to stump the Queen, but so far, nobody has been able to do it.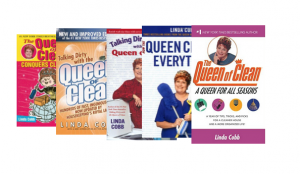 On the air, in print and on the Web, Linda does it all, but the crown jewel of her achievements is her best-selling book Talking Dirty With The Queen Of Clean®. It was already popular in Arizona when Simon & Schuster's Pocket Books picked it up. Pocket Books published and released Talking Dirty in September 2000 and it has been flying off shelves ever since! The sequel, Talking Dirty Laundry with the Queen of Clean®, came out in spring 2001, followed up by A Queen for All Seasons: A Year of Tips, Tricks and Picks for a Cleaner House and a More Organized Life® and the compilation hardback title How the Queen Cleans Everything®.
Look for the Queen of Clean® Seal of Approval® on products she personally believes exemplify the best in their categories. She does not rely on product PR. Linda, herself, tests hundreds of products in every way imaginable and some that aren't! She does the work so you don't have to. In another effort to make your life clean and easy, Linda has put together a list of Palace Picks® to help you make the very best choices in cleaning products.
The Queen lives in Phoenix, AZ with her husband, Duane, and Palace Pussycats Zoey Elizabeth and Finn.